In the battle of wills that often happens over my dinner table, I gained the upper hand with this country fried steak recipe. Cut into strips makes this twist on chicken fried steak kid-friendly, but the fast prep time makes it a quick weeknight dinner.

As a child, one of my favorite meals was smothered steak but my children refuse anything with gravy. What is wrong with their taste buds?! I mean, we are Southern. We are supposed to love gravy.
Anyway… when I was craving this childhood comfort food, I decided to make the country fried steak more child-appealing by channeling my inner Pioneer Woman and cutting the pieces of cubed steak into strips, serving the milk gravy on the side like a dip.
By cutting the meat into one inch strips, you also speed up the cooking process bringing the meal together quickly.
Some stores sell the cube steak already cut but I am not that lucky. Also, for the budget conscious family, look for a manager's special to save and buy in bulk. You can always divide the portions and freeze to cook this Country Fried Steak recipe another week. I just recommend freezing flat to make thawing easier and faster. Trying to thaw a lump of cubed steak is like waiting for molasses to pour on a cold morning. Frustrating!
Country Fried Steak is amazing with the milk gravy over rice (super cheap side dish) or mashed potatoes (also very frugal). However, you can go without the gravy (pardon my aching heart) and serve alongside any fresh fruit or vegetable.
Country Fried Steak
Print Recipe
A super quick weeknight dinner idea... chicken fried steak recipe. Kid-friendly too.
Ingredients
2

pounds

cubed steak

cut into 1-inch Strips

1

cup

flour

plus 1/4 cup for gravy

1

teaspoon

salt

plus 1/2 teaspoon for gravy

1/2

teaspoon

black pepper

plus 1/4 teaspoon for gravy

1/2

teaspoon

dried mustard

plus 1/4 teaspoon for gravy

1/2

teaspoon

onion powder

1/2

teaspoon

paprika

plus 1/4 teaspoon for gravy

2

eggs

3

cups

milk

divided

Canola oil for frying

4

tablespoons

butter

divided
Instructions
In an electric skillet or frying pan, heat the canola oil and 2 tablespoons butter to about 350 degrees. Do not start frying the cube steak until the oil is hot.

In a storage bag or on a plate, mix together 1 cup flour, 1 teaspoon salt, 1/2 teaspoon black pepper, 1/2 teaspoon dried mustard, 1/2 teaspoon onion powder, and 1/2 teaspoon paprika.

In a separate bowl, whisk together 1 cup milk with eggs.

Place each strip of cubed steak into the flour, coating both sides. Then, dip the strip into the milk and back into the flour mixture to coat.

Carefully put the steak strip in the oil and allow to cook until the edges begin to brown. Flip the strip and cook until done and golden brown.

Repeat steps for each country fried steak strip, keeping warm on paper toweling.

When all the country fried steak strips are done, carefully pour off most of the oil from your skillet, allowing the meat bits and about 1 tablespoon of oil to remain. Place the skillet back on the heat and add 2 tablespoons of butter to melt.

Whisk in the remaining flour and seasonings to the skillet and stir into the butter and oil. Once the flour has absorbed the oil and begun to brown slightly, slowly add 2 cups of milk while whisking the flour.

Bring the gravy to a bubble over medium heat and whisk frequently until thickened to your desired consistency.
Weekend potluck #188
The recipe with the most clicks was ~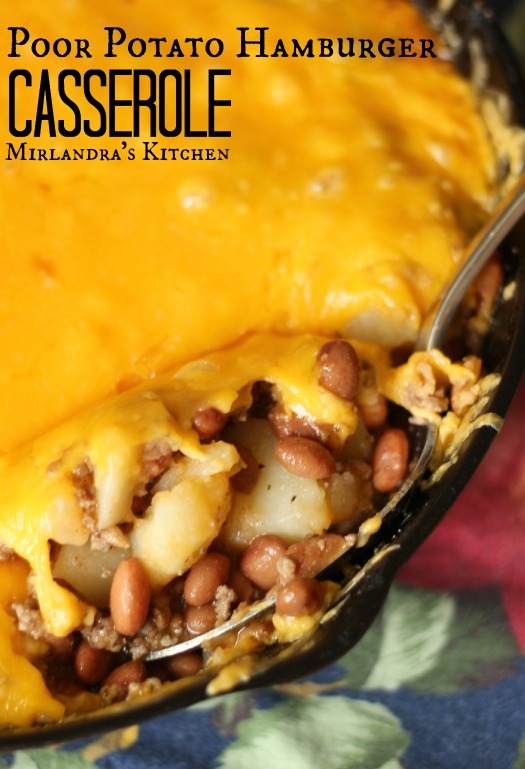 Poor Potato Hamburger Casserole by Mirlandra's Kitchen
Recipes that caught our attention ~

Cheesecake Swirled Pumpkin Brownies by With a Blast
Pumpkin Oatmeal Cake with Browned Butter Pumpkin Icing by Crazy for Cookies and More
Your hostesses ~
Remember that when you link up, it shows on all FIVE blogs. Plus…
We TWEET. We PIN. We LIKE.
Linky Guidelines:
If you wish to be a featured recipe or for us to promote your recipe either on Facebook, Twitter, or Pinterest, you MUST follow these instructions.
Please link up to your exact post and not the main page to your blog.
LINK BACK HERE from your post so that others can find the fun.
When you are kind enough to follow our guidelines, we work hard to get you as much exposure as possible so that your time here is well invested. We want this to be a fun and rewarding experience for everyone!